Welcome to the online home of the Bangor Band. 2023 marks our 164th Birthday, making us one of the oldest, continuous community bands in the United States. We have been performing concerts at various venues throughout the greater Bangor area since our inaugural season in 1859 and are proud of our musical tradition in serving countless generations of Bangorians for the past 164 years!
We hope to see everyone at 6:45 on Tuesday, July 25th at the Annual Chapin Park Block Party for another great evening of toe-tapping music!
********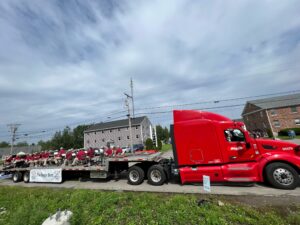 The above was the scene on Acme Road in Brewer for our Nation's Independence Day as the Bangor Band began its parade journey to Bangor aboard this Bison USA flatbed truck. We thank Don Clark, Flatbed Coordinator and Trever Kohl, our driver for getting us safely across town and back!
********
We began our summer season in style on June 13th at the Bangor Waterfront and we were most fortunate to have Tom Krosnowski from WABI TV there to share it with us!
WABI TV at Bangor Band concert
The Bangor Band sends a big thank you shout-out to Tom and WABI TV!
********
Our conductors and musicians thank you for your continuing support and we look forward to seeing you at all of our concerts this year!