Welcome to the online home of the Bangor Band. 2022 marks our 163rd Birthday, making us one of the oldest, continuous community bands in the United States. We have been performing concerts at various venues throughout the greater Bangor area since our inaugural season in 1859 and are proud of our musical tradition in serving countless generations of Bangorians for the past 163 years!
In all of Bangor Band's history, 2020 was the first time since our beginning in 1859 to not have a summer season. But we were so grateful in 2021 to be able to do a shortened version.
This summer we are performing a regular Summer Concert Series!
You can check out our busy concert schedule here.
After ten wonderful years as Conductor of the Bangor Band, Chip Farnham will be retiring. We will be celebrating his musical career as he leads us one last time at a very special end of season concert. We hope you and your family and friends will join us to honor our beloved Conductor and friend on August 9th at the Maine Savings Amphitheater at Waterfront Concerts.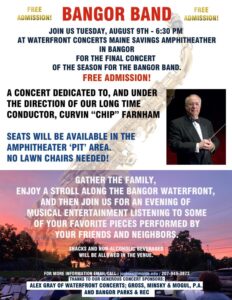 The conductors, Curvin "Chip" Farnham , Philip Edelman , Scott Burditt and members of the Band thank you for your support. We love to share music with our wonderful friends and family in the Bangor community.
See you on the concert trail!