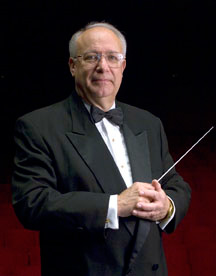 Curvin Farnham is a Professor of Music at the University of Maine in Orono, Maine where he teaches courses in instrumental music education and conducting at the undergraduate and graduate levels. For twenty four years he was Director of Bands at the University of Maine and conducted the University Symphonic Band. He is presently conductor of the Bangor Band, the oldest continuous community band in New England.
Professor Farnham received his B.M. in Music Education from the Northern Conservatory of Music and did graduate work at the Vandercook College of Music in Chicago. He studied conducting with Richard Castiglione formerly of the Boston Conservatory and Anthony Maiello, Director of Instrumental Studies at George Mason University.
He is past president of the Maine Music Educators Association. In 1985, he was elected to the American School Band Directors Association and in 1990, he become a member of Pi Kappa Lambda. Mr. Farnham holds memberships in the Music Educators National Conference, the College Band Directors National Association, the New England College Band Directors Association, and the National Band Association. He holds honorary membership in both Kappa Kappa Psi and Tau Beta Sigma. In the Spring of 2001, he was recognized as Music Educator of the Year by the Maine Music Educators Association.
Mr. Farnham appears throughout the United States and Canada as a clinician, adjudicator and conductor and has guest conducted at several national and international festivals including the Atlantic Band Festival in Halifax, Nova Scotia, the Music Educators National Conference Eastern Division Conference, The International Band Festival in Winnipeg, Manitoba, the Music in May Festival at Pacific University in Forest Grove, Oregon, and the Mid-West International Band and Orchestra Clinic in Chicago.
In the spring of 2009, he was guest conductor of the DoDDS / Europe Honor Band in Wiesbaden, Germany and conducted the University of Maine Symphonic Band at Symphony Hall in Boston.
History of Conductors
1859

W. T. Standish

1859

E.H. Goodale

1860-1883, 1888-1893

A. D. Harlow

1862

H. S. Morey

1867-1883, 1888-1893

Melvin H. Andrews

1867-1883

W. B. Peaks

1867-1883

J. Phelps

1867-1883, 1885

John M. Mullaly

1867-1883

M. Nesbit

1867-1883

J. Delaney

1867-1883

C. E. Taylor

1867-1883

S. Castledini

1883-1886,1893-1897

R.B. Hall

1887-1893

Frank L. Tuck

1887

Steven Cream

1888-1893

Fred Gilbert

1888-1893

Edward L. Adams

1888-1893

Oscar E. Wasgat

1897-1903

Harvey J. Woods

1903-1905

Knute Ringwald

1905-1908

Howard C. Eaton

1908-1949

Adelbert Sprague

1950-1956

Francis G. Shaw

1956

Sam Harris

1957

Chuck Edgerly

1958-1961

Harold Miller

1961-1965

Jerome Campbell

1961-1965

George Himes

1965-1975

Harold Doe

1975-1978, 1983, 1985-1997

Dr. Gordon W. Bowie

1978-1983

Robert Collins

1983, 2002-2005

Fred Heath

1984

Aime Simoneau

1998-2001

Jim Trembley

2005-2012

Dr. Fred Goldrich

2012-Present

Curvin 'Chip' Farnham